BLOG DETAIL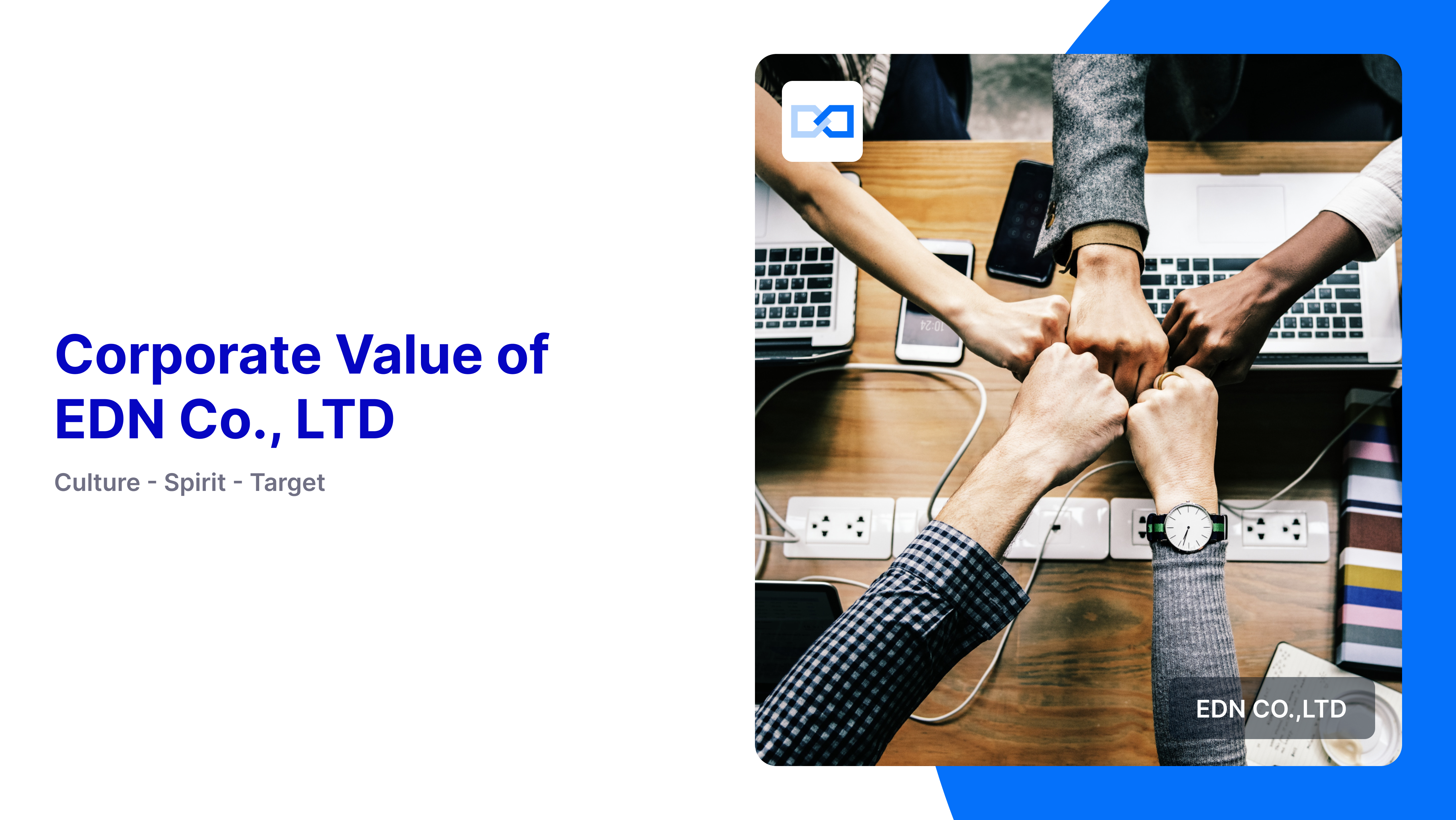 April 8, 2023
Corporate Value of EDN Co., LTD
EDN is a company of aspiration and enthusiasm different from the usual company, EDN is always aiming for simplicity and has no intention of being number one
Our culture
The company's values ​​are always consistent with the mission, as the foundation that clearly affirms how the company treats employees, customers and partners, and creates its own culture.
Ownership
Ownership is a unique mindset of a person who aspires to create new values. It is considered a breakthrough factor and is the difference between successful people at work and those who are not.
At EDN, ownership is created with opportunities and the highest development environment, stimulating and evoking employees' ownership daily.
Integrity
Integrity is the quality of a person or an organization, including honesty and ethics in actions and decisions. It is concerned with upholding and adhering to the commitments, values ​​in the work and all activities of a person or organization.
Understanding the importance of integrity, EDN has fully incorporated it into the company's culture to preserve, adhere to and develop sustainably.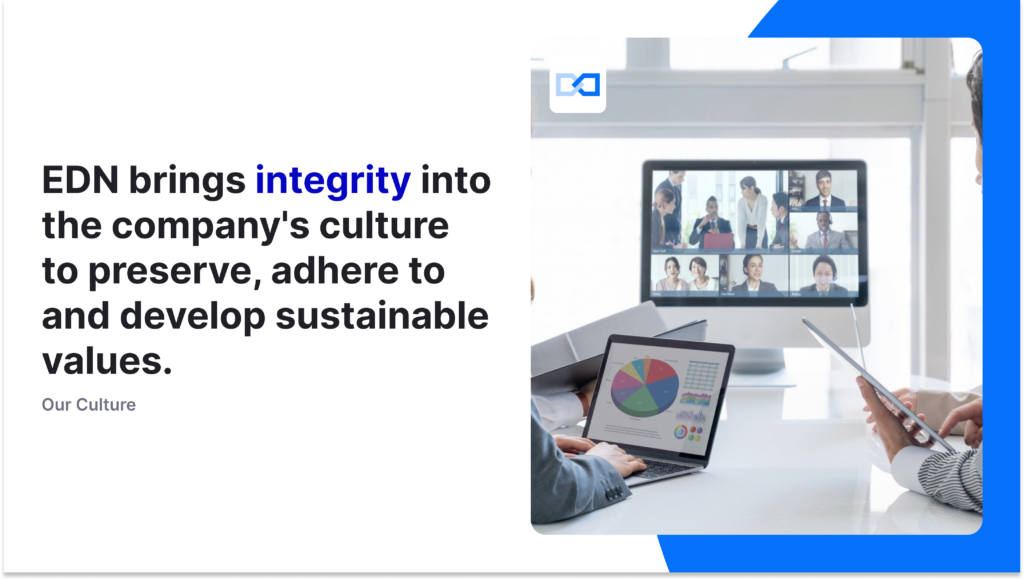 Simple
Simple is often seen as good in many situations, from product design to problem solving. However, Simple at EDN is not just "simple", we want to bring simplicity but DELICATE. This simplicity still ensures to preserve all the value in the product but with the fastest, most efficient and most streamlined way.
For EDN, the company that builds the technology foundation, subtly simple is a necessary condition to be able to work efficiently, quickly, optimize costs, maximize value and avoid complicated experiences.
With the above 3 cultural elements, we want to create orientations for the values, beliefs, attitudes, rules, rights, working methods, and behavior of employees in the company, all for the sake of the company. a common goal and development.
The things we cherish
Our staff all work with the spirit of: Commitment – Problem Solving – Positive/Proactive
Commitment is an important factor in the work environment at EDN, it helps define one's goals and actions, and creates trust and respect among relationships within the company.
Problem-solving skills help implementers find better solutions, make more accurate decisions, and work more efficiently.
Actively empowers employees with an optimistic attitude and motivation to continue to grow and improve, and helps us proactively make proactive decisions and take action to achieve our goals
The above 3 keywords are important factors for us to train and develop employees at EDN, this is also the motto of finding potential candidates for the company.
"For Tho, a staff with good expertise is not necessarily a good employee, responsibility is always the top factor for Tho to choose you. The long-term relationship between employees and the company is not only a matter of expertise and responsibility but also depends on whether the two are culturally appropriate and have development goals. And for EDN, we will not limit your development space, and do not want the idea of ​​peace in one position for any employee."

General Director – Thơ Nguyễn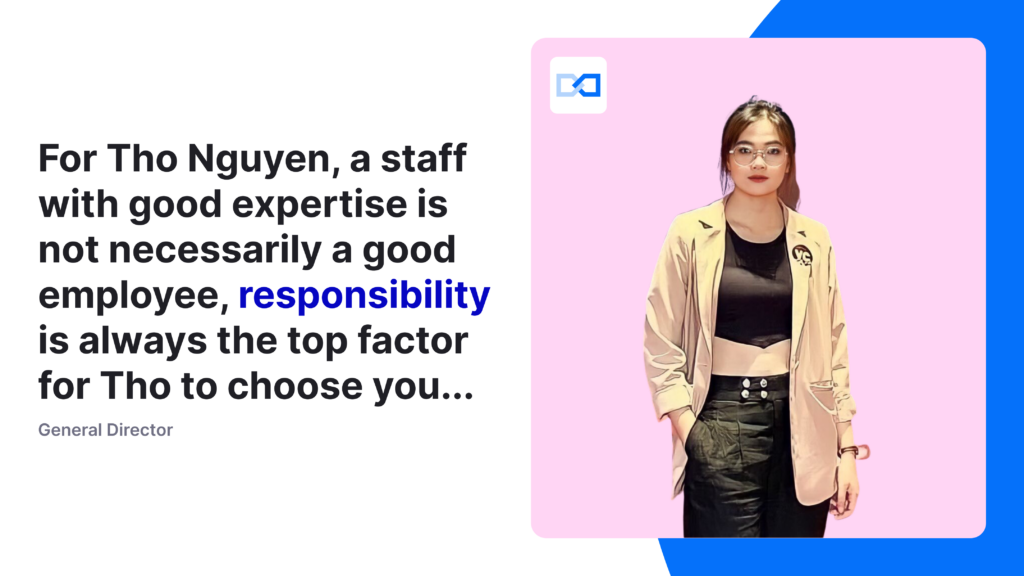 5 things to keep in mind as a member of EDN
Stick to the goal
Respect for culture
Humble and Confident
Emotional control
Discipline and Integrity
Our target
About technology:
Develop a technology platform that can apply and solve all problems in the economy quickly, efficiently and sustainably.
Build a rich, comprehensive and centralized economic ecosystem.
No problems in connecting, synchronizing and processing information.
Besides, not forgetting the core values ​​of technology but racing to follow market trends.
About human:
Not simply developing as a company or technology corporation, what we aim to be is to become a nurturing cradle for ideas, ambitions, youth and enthusiasm.
It doesn't matter who you are, or how capable you are, as long as you have the spirit, passion, enthusiasm and fit with the culture and goals of EDN. We are happy to accompany you!
We are always trying to develop and expand ourselves in many different fields. EDN is one of the great strides built with the will, enthusiasm, aspiration of youth and professionalism.
Contact us:
Mail: [email protected]
Phone: +84 286 273 9793 or +84 86 912 9599
Office: The New City, 17 Mai Chi Tho Street, An Khanh Ward, Thu Duc City, HCMC
See more about us at:
© 2013-2023. Copyright by EDN Co.,Ltd.